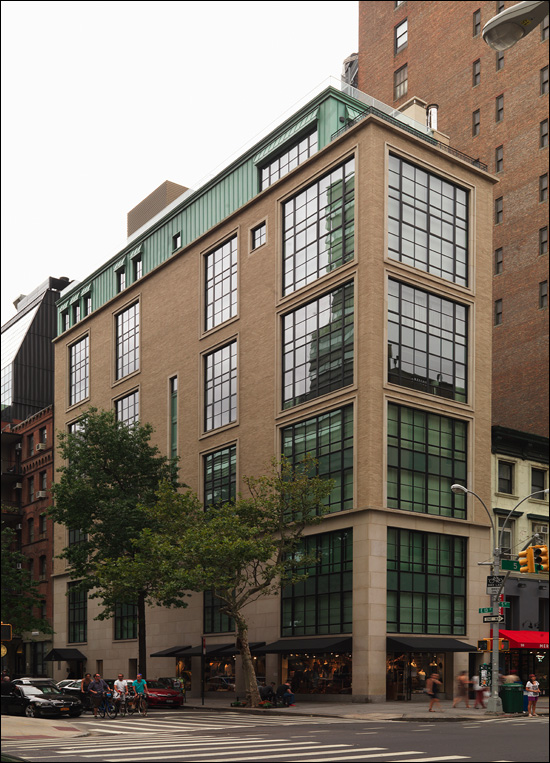 61 Fifth Avenue
COMPLETED: 2014
PROGRAM: New 10 story condominium building in Greenwich Village, including complete design for custom detailed limestone and brick exterior and custom apartment interiors.
CLIENT: 61 Fifth Avenue, LLC
OVERVIEW: The new building, at the southeast corner of Fifth Avenue and 13th Street in Manhattan, caps the north end of this Greenwich Village block with a contemporary interpretation of a classic Fifth Avenue facade. Making use of historically correct materials, Indiana Buff Limestone, Deer Isle Granite, patinated copper and light brick in a limestone-colored range, the building is simultaneously respectful of its Fifth Avenue pedigree while bringing an elegantly detailed facade, with a modern sensibility, to the streetscape. 61 Fifth Avenue will have retail on the street level with four apartments above, three duplexes and a triplex. Although 10 stories high, the facade is articulated with double high windows for each of the four residences (spandrel glass at intermediate slabs) so as to visually reduce the scale of the building. The top floor will be clad with standing seam copper, prepatinated to achieve the gentle green color of similar "attic" stories on this stretch of historic lower Fifth Avenue.
The apartment interiors feature clear spans and articulated beams. The living, dining and kitchen areas are open and loft-like while the bedroom floors include private master bedroom suites as well as children's or guest bedrooms, all with en-suite baths. Careful attention to planning and details make for intelligent layouts free of redundant circulation. The intense planning effort and finely tuned coordination with the mechanical systems allow for the maximum use of every square inch of the 25'x100' floor plate and results in spacious elegant rooms despite the narrow footprint.
AWARDS:
Brick in Architecture Awards
2014 award in the Residential – Multi-Family category.
PRESS:
Copper caps classic faÇade
Metal Architecture, November 1, 2015
NYC developments get a second chance at sales success
New York Post, March 4, 2015
A Modern Classic Makes a Good Neighbor to Adjacent Historic District
e-Oculus, February 25, 2015
It Takes A Village
New York Post, July 24, 2014
Faces on Fifth: Architect Alta Indelman
Landmark Branding LLC, January 20, 2014
61 Fifth Avenue
Landmark Branding LLC, January 17, 2014
Interview: Alta Indelman on 61 Fifth Avenue
New York YIMBY, November 8, 2013
Construction Update: 61 Fifth Avenue
New York YIMBY, August 1, 2013