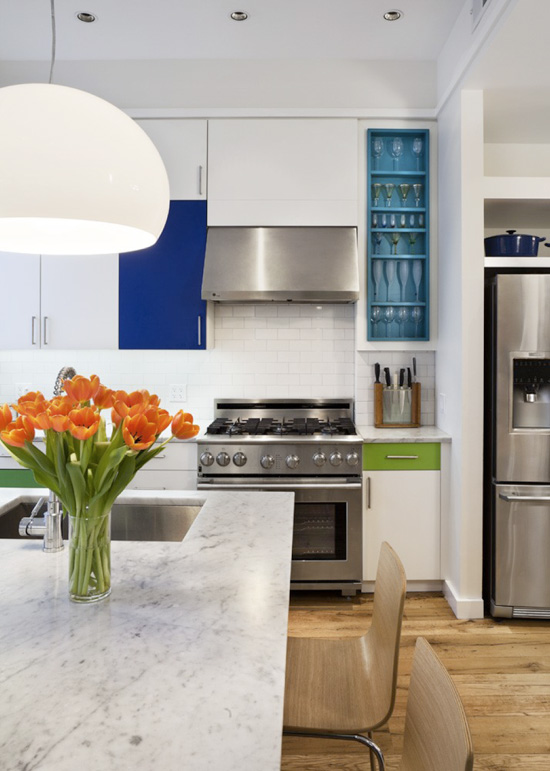 Townhouse Renovation, Park Slope, Brooklyn, NY
COMPLETED: Winter 2011
PROGRAM: Parlor floor gut renovation to open up the interior for a more spacious look. A new enlarged kitchen and new powder room were designed as well as new finishes and detailing in the living room and dining room.
OVERVIEW: The program for this project required an open loft-like living/dining room and a big open kitchen with an island. A full-sized washer and dryer needed to be accommodated under a counter in the kitchen. This is more than just a little difficult to achieve in a 19th century row house that is on ly 15 1/2 feet wide inside! To add to the challenge, my clients had seen a British design magazine that featured the use of very bright colors randomly sprinkled throughout a decidedly modern elementary school interior. They loved the look and wanted to use that general concept in their new kitchen while maintaining continuity with the more traditional aspect of the rest of the parlor floor that still retained some historic detail. Wow!
There's nothing like a stiff challenge to get the design juices flowing. We did it! By making two strategically located structural openings, one at the stair hall and one in the kitchen area, we were able to visually widen the living/dining room and actually widen the kitchen by also relocating the plumbing for the powder room. Through detailing, the use of color and with newly installed reclaimed flooring throughout, we tied the new to the old in a surprisingly cohesive way. Many color studies were done to get the "random" brights just right. The results are delightful. Fixtures and furnishings include Bludot stools, Kartell lights, LG Washer/Dryer, Duravit lavatory, Miele dishwasher and Abet Laminati cabinet faces.
PRESS:
Rehab Diaries: Color Block Kitchen in Brooklyn
Remodelista, May 23, 2013